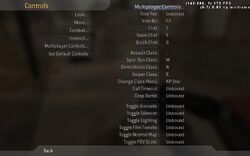 ASSAULT, SPEC OPS, DEMOLITIONS, AND SNIPER CLASS BINDS
To bind your class selection to keys, click on the desired class, and press the key you want it bound to.
example: I want my Sniper Class bound to my "x" key so I click Sniper Class and press "x".
See this page for more info on classes.
CHANGE CLASS MENU
Binding the change class menu, and pressing the key, causes this screen to show up.
CALL TIMEOUT, DROP BOMB, TOGGLE GRENADE, TOGGLE SILENCER
Bind timeout to a key to call one.
Bind drop bomb to a key to drop the bomb.
Bind toggle grenade to a key to switch between smoke/flash grenade.
Bind toggle silencer to a key to switch between a silencer/no silencer on your primary weapon.
TOGGLE FILMTWEAKS, TOGGLE LIGHTING, TOGGLE NORMAL MAP, TOGGLE FOV SCALE
Bind filmtweaks to a key to toggle r_filmtweakenable between 0 and 1.
Bind toggle lighting to a key to switch between 1.2 lighting, stock lighting, and no lighting on a map.
Bind toggle toggle normal map to a key to switch between unchanged and flat.
Bind toggle FOV scale to a key to switch between fields of view.
For more info on filmtweaks, visit this page.
For more info on FOV scale, visit this page.
THE REST IS A WORK IN PROGRESS
Ad blocker interference detected!
Wikia is a free-to-use site that makes money from advertising. We have a modified experience for viewers using ad blockers

Wikia is not accessible if you've made further modifications. Remove the custom ad blocker rule(s) and the page will load as expected.